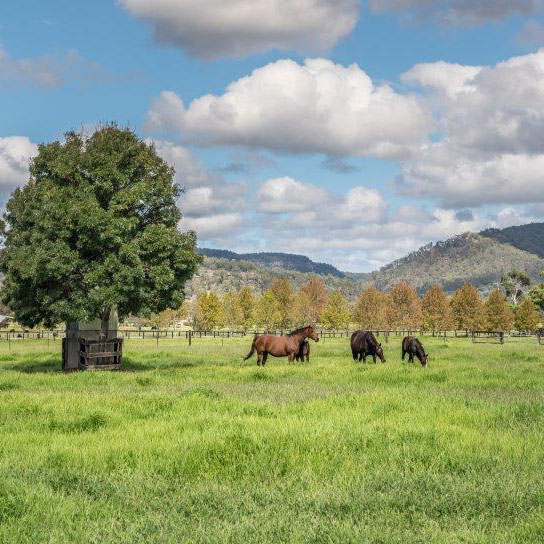 Alluvial, irrigated river flats, shady sheltered paddocks, small herd numbers, safe fencing and some hilly country along with many other factors go into making Parsons Creek Farm a luxurious place to reside should you happen to be a horse.
We offer a full range of equine facilities geared towards the thoroughbred industry including:
A high spec foaling unit and excellent stable complex;
Safe secure laneways for hand walking young stock in sales preparations;
Shady yards for foaling and convalescing requirements;
Various paddocks ranging in size allowing us to utilise this for various needs from spellers to mares and foals;
All paddocks have shelter sheds and natural shade from the plentiful trees; and
Jerrys Plains Veterinary Hospital (Formerly Roger & Associated Veterinary Clinic) is only 20 minutes from the farm.
Located in the Lower Hunter Region – approximately 2 – 2.5 hours drive north of Sydney;
Situated perfectly near the top studs in NSW with Coolmore Australia being a leisurely 25 minute drive and 30 minutes to Darley (ex-Woodlands). Darley Aberdeen Stud is a 45 minute drive away and the township of Scone, Scone Racetrack along with other major studs being 1 hour drive;
An excellent location – approximately 35km from the restaurants and tourist destinations of the Pokolbin Wine District, 15km from Broke, 25km from the commercial centre of Singleton, and a 2 minute drive to the boutique village of Bulga;
Clients visiting their horses can be treated to a game of tennis on the full-size court or indulge in a glass or two of our award winning Bilgavia Estate Wines;
Accommodation for clients can be arranged via appointment to allow easy access to their horses throughout their stay; and
Pre-training race track is being further developed to enhance the stud and services to clients.
Parsons Creek Farm is the complete farm and is regarded as one of the show places of the Lower Hunter Region.
Naturally beautiful and highly productive country, Parsons Creek Farm has been expertly planned and developed into a fully integrated commercial operation, providing the very best individualised care for clients' horses. Parsons Creek Farm is a wonderful place to visit; a feeling of peace and tranquility will characterise each of your visits with us. Please feel free to call and organise a time to visit.